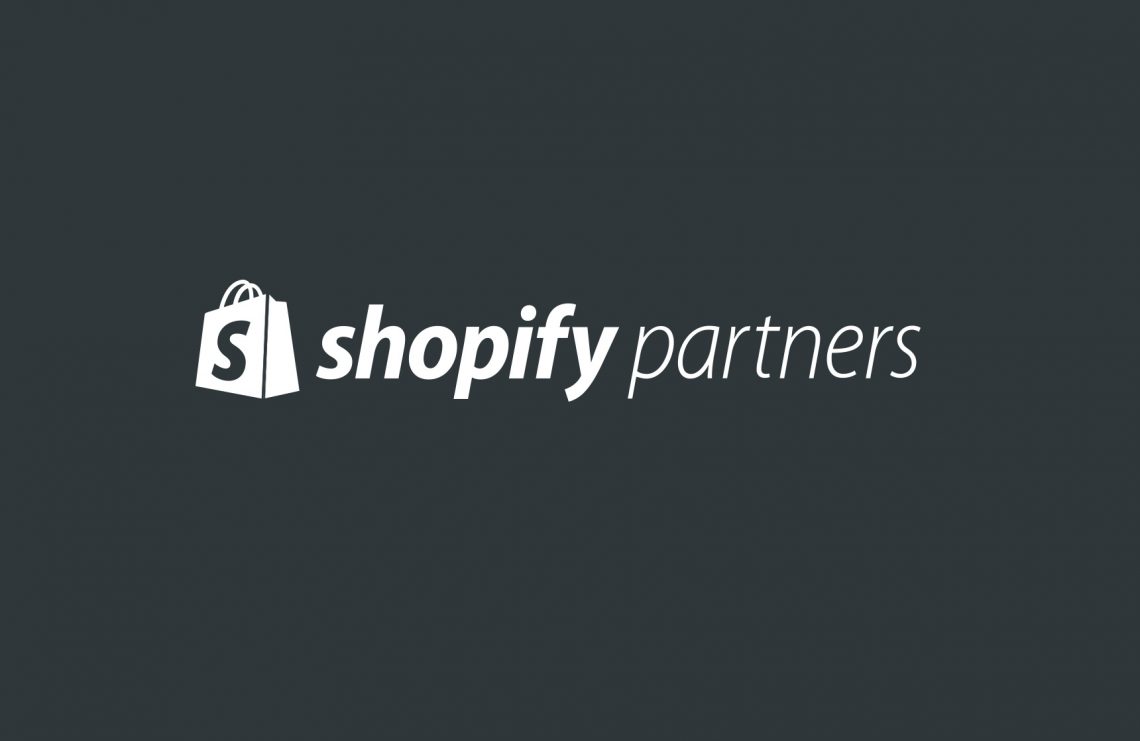 All You Need to Know About Shopify Partners and Experts
As a well-known e-commerce platform, Shopify allows a huge number of entrepreneurs to create their own online stores quickly. It makes the setup process incredibly easy. Even when you are from another platform to Shopify, you still can easily import all necessary information from the old one to Shopify.

So the question here is why you still need Shopify Partners and Experts? The answer is no matter how easy the platform is to use, the e-commerce industry is still complicated and moving on. Therefore, you may need some extra help from other developers and experts to make your business a success.

Shopify Partners, the partnership program of Shopify allows merchants to leverage their knowledge of creatives and experts in their industry to earn benefits. So in this article, we are going to talk as detail as possible about what Shopify Partners and Experts are.

What are Shopify Partners?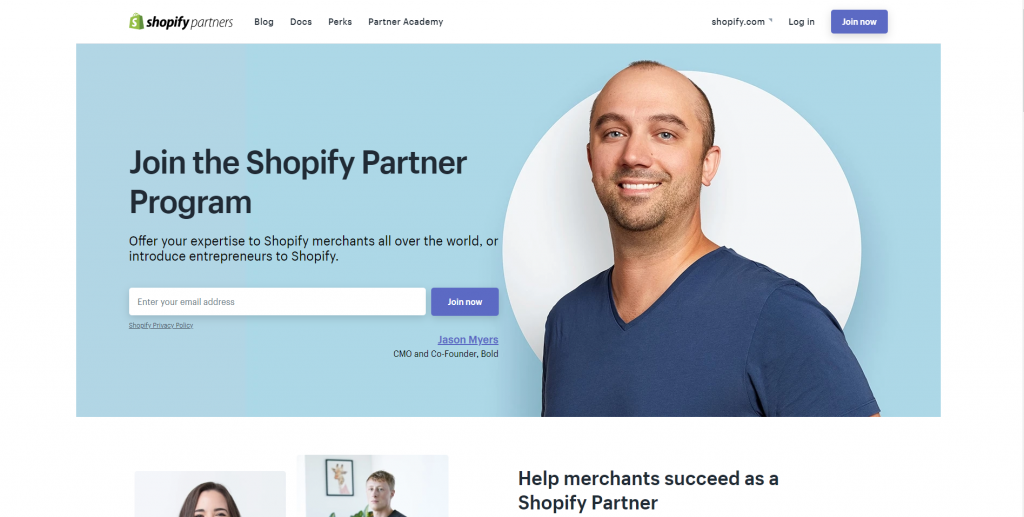 Shopify partners are active members of the Shopify Partner program, one of Shopify interfaces. In general, a Shopify partner can be anyone. Shopify Partner Program allows partners to earn money by recommending Shopify to others, creating themes and apps, or simply by posting affiliate links on their website.

Shopify Partners are:

Coders
Designers
Developers
Marketers
Photographers
Freelancers
Influencers
Shopify Partners will be great helpers, who help you to create perfect sites and components. For example, Shopify Partners can help you in creating and choosing a design, in marketing, and in improving the functionality of the site. Choose for your online business the right partners could make your site become competitive and stand out from your competitors.

Shopify Partners Revenue Streams

Your earnings depend on the type of activities you'll perform as a Shopify Partner, these activities include:
Setting up a development store. You can charge merchants to create their Shopify store or improve their existing one. If they love it, you'll get a 20 percent cut from the user's monthly subscription fee for as long as they remain a customer.
Creating Shopify themes. If you can create Shopify themes, you can earn 70% of your theme's sales.
Generating affiliate referrals. If you are an influencer, you can refer your audience to Shopify. When a merchant buys a Shopify plan via your referral link, you get a two-month "bounty payment" for the referral, which is equal to the value of the merchant's subscription fee for each month.
Developing Shopify apps. You can also create apps and earn 80 percent of the total revenue from their sale price (one-time).
The Shopify Partner Dashboard allows you to keep track of the different types of revenue you generate. In addition, in this dashboard, there are all the tools and training to help you. You can also use it to keep in sync with themes, apps, and stores that you're creating with Shopify.

You might also like How to Write Perfect Product Descriptions That Sell
Who are Shopify Experts?

Shopify experts are elite partners who are competent at using the Shopify platform. These experts have been carefully examined by the platform itself. If Shopify found that they have successfully demonstrated their ability to represent the Shopify brand, then they will become Shopify Experts.

Shopify Experts are masters in certain fields, such as marketing, then they can help Shopify merchants interact in social networks, improve website conversion, update information in social networks, and analyze data. Besides marketing, Shopify Experts also offer other services to help Shopify merchants launch their business or increase their sales, including:
Build or redesign the store
Design logo and visual branding
Add products to your store
Set up a custom domain
Sales channel setup and optimization
Guidance for improving your sales strategy
Set up and manage Google analytics
Set up email campaigns
Social media marketing guidance
Add custom features or code
Add images and visual effects,…
Even though it seems that Shopify Partners and Shopify Experts are doing the same work, there is a difference between them. At first, Shopify Experts are normal Shopify Partners. After a period the platform reviews their work, if it found that their work meets a certain standard, they may afford them the title of Expert. Once they get this title, they will be vouched in the Shopify Expert Marketplace.

How to Become a Shopify Partner

There are no start-up or subscription fees when you sign up for a Shopify Partner account. Therefore, you can practice unlimited test stores for as long as you'd like. So how to sign up for a Shopify Partner account? We will give you detailed instructions for becoming a Shopify Partner.

Step 1: Go to the Shopify Partner Program Website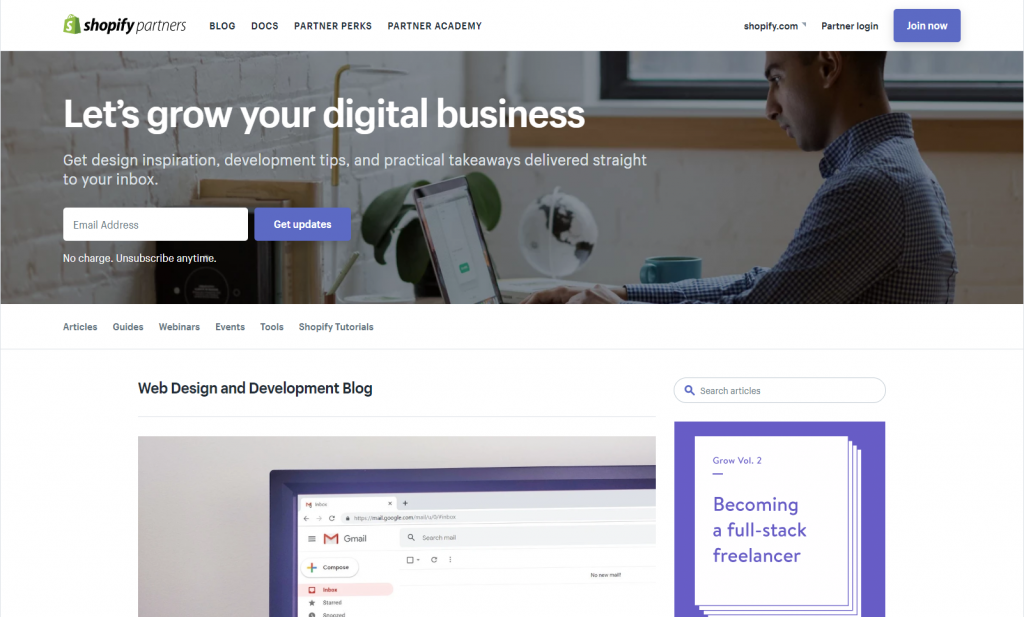 To sign up for a Shopify Partner account, the first thing you have to do is go to the Shopify Partner Program Website. On the landing page, there are many useful articles, guides, and webinars that you can learn from the Shopify Partner Blog.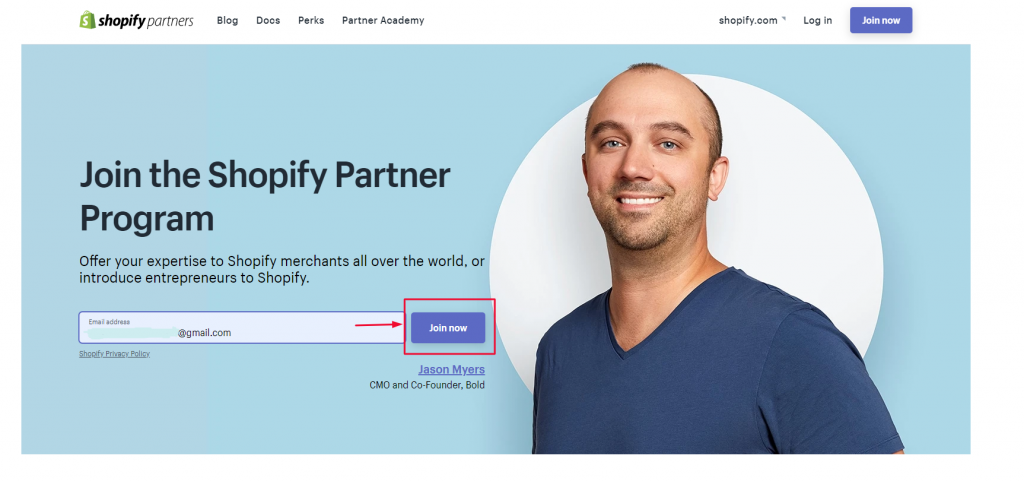 On the main screen, you will type your email and click the "Join now" button.

Step 2: Fill in the necessary information

After you click on the "Join Now" button, you will be taken to the "Create an account" screen. Then, you fill in your name and choose a strong password, preferably one that's a combination of letters, numbers, and symbols. And after you finish filling in all the information, you have to click the "Create Account" button.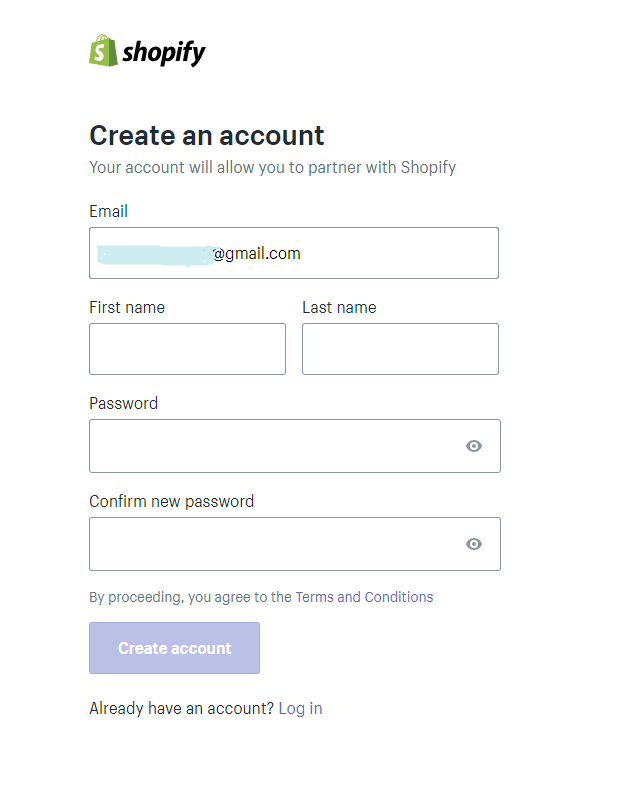 Step 3: Create your Shopify Partner account

After you click on the " Create account", the website will show the following content to you.


Choosing the "Create new partner account" option, then shift to the next step

Step 4: Enter your detail

In this step, you have to fill in all the necessary information regarding the details of your business, except the fields that are marked "optional".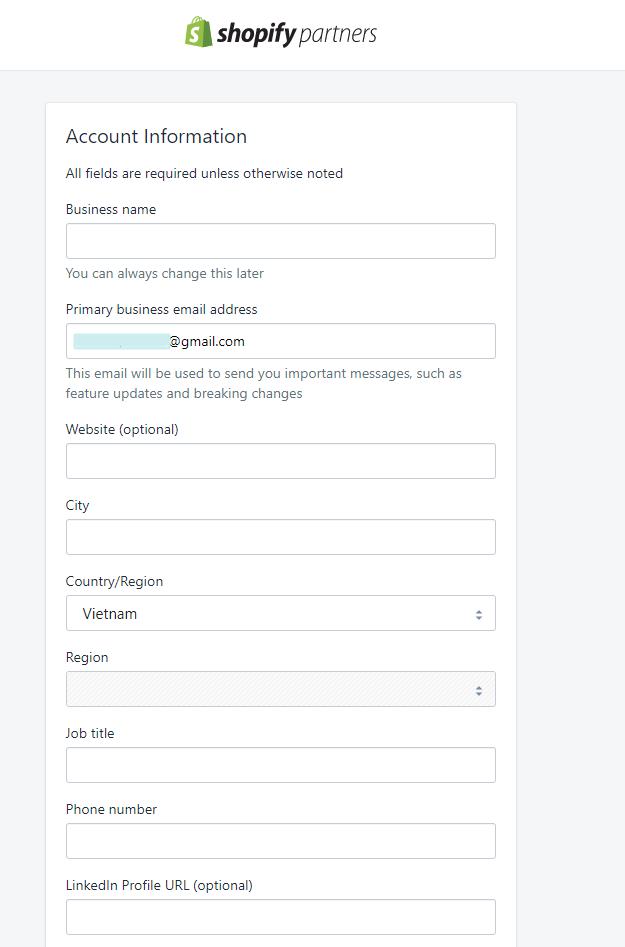 After you've done that, scroll down to the "Business goals" section and choose the option that suits you best. If you select one of the first three goals, there will be an additional question for you. For example, we choose the "Building new Shopify stores for clients" goal, then the platform asks me: "Do you have a client you're currently working with?"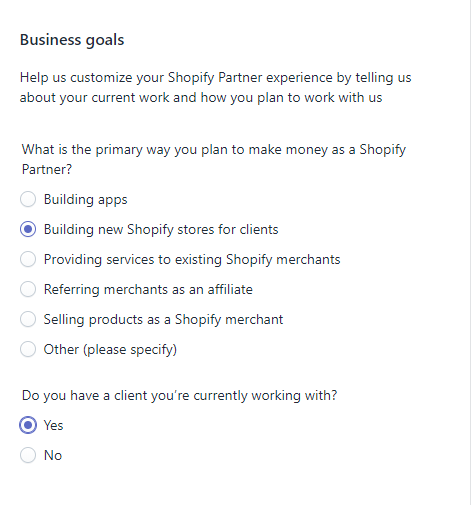 And scroll down further, you'll get a list of e-commerce platforms. You will tick the platforms that you are currently using. If you are not working with any platform, click on the "I am not working with any e-commerce platforms" option. Remember to accept the terms of the agreement, then clicking the "View your dashboard" button.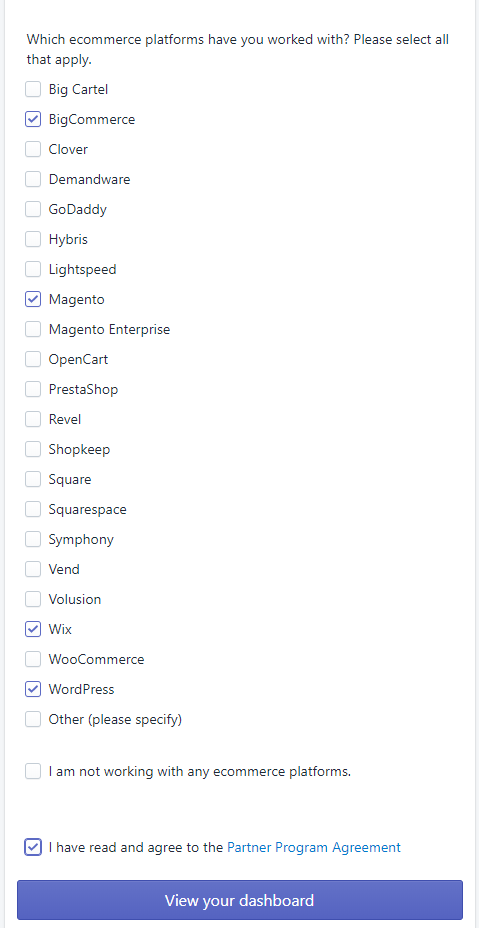 Finally, verify your email and you officially become Shopify Partner. Here is the Shopify Partner Dashboard.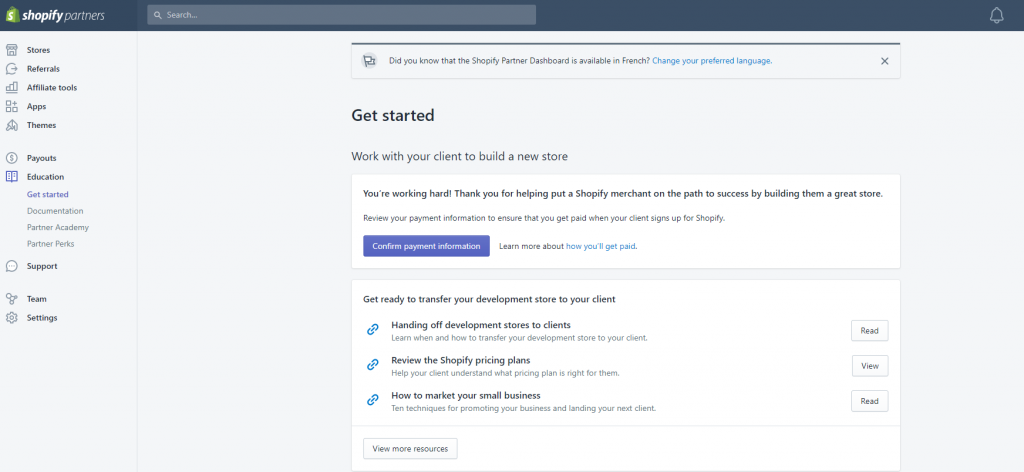 Here is the end of the article. If you have any questions related to the Shopify Partner Program, drop them in the comment section below, and we will answer them.
You can take a look at our Shopify SEO apps that can help you to drive more sales.