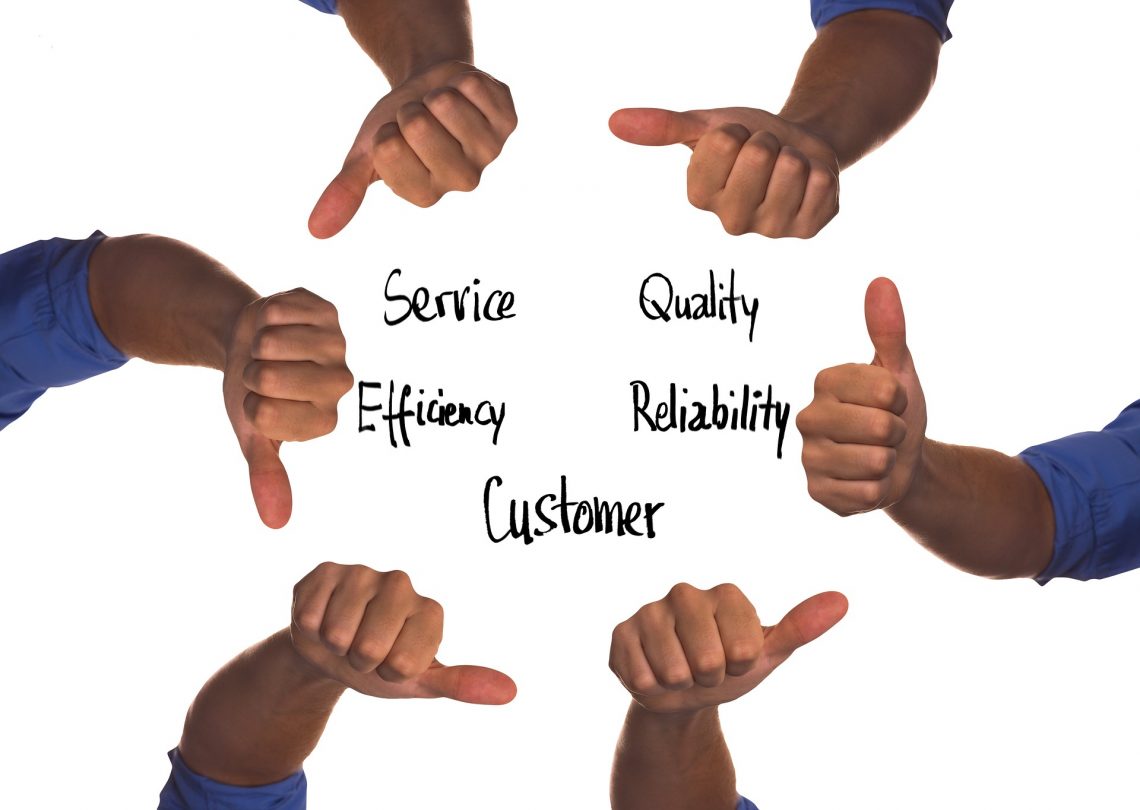 Advice For A Brand New Business To Infuse Customers' Confidence
When people do online shopping, they usually search for testimonials in order to get genuine experiences from previous users. The feedback somehow guarantees whether the product or service will meet their demand and intensify their confidence. Owing to this habit, a completely new store will face difficulties because they haven't had any sales or reviews from past customers. That's why we have pointed out 7 below tactics to help your new e-commerce store gain people's trust and convince your first customers to try your products out.
Reveal the business owner
Just like an instinct everybody has, people tend to trust a real person much more than a brand name. In other words, prospects want to know the owner behind the product or service they intend to buy, especially when they feel doubtful about it. In this case, whether the owner looks trustworthy or the product's story is reliable really matters.
Ideally, there should be the 'About us' part or likewise on your home page where you honestly tell people who you are and what you do. When it comes to closing a sale with a totally strange seller, emotional factors are likely to be involved. The decision could have a lot to do with the impression of your business, which comes from what they glean from your 'About Us' or 'Our story' site.
Let's look at an example from Garmin.

They feature the portrait of the chairman and his quote on the home page in an attractive way, which will increase visitors' trust and motivate them to continue browsing the webpage or eventually proceed to make a purchase.
Do content marketing
In doing online business, content is king. A successful content strategy will surely set yourself apart from other competitors. Behind every great brand is a wealth of valuable and relevant content that really connects the seller with its potential customers. When people read your content, they start to develop an opinion of your brand through which you can build trust with your target audience. Instead of constantly talking about your product or service, it is advisable to create and maintain a support site where you provide the readers with useful information and help them to solve relevant issues.
Address online shopping security concerns
Online security issues involve personal information, primary financial data, and payment card details. It is apparent that there will be a number of careful online shoppers not to proceed a purchase unless they receive assurance that their security is being safeguarded along the way. The measures to increase visitors' reliability might include the little yellow lock symbol on the website's address bar or another layer of protection displaying a security badge on your store.
Concerning payment method choices, third-party service is a good option to help people feel more secure because it provides a valuable extra layer of safety. It is better if consumers could be directed to the webpage of their bank for payment. Other than that, Google Wallet, PayPal, Apple Pay, Amazon Pay are also available, just to name a few.
Make your product returnable
With a brand new business, an appealing return policy plays a crucial role in purchasing decisions. As customers have no idea about your products and they are not so sure whether it will fit their situation, a money-back guarantee will motivate them to give it a try. When you show them that you're confident with your products, you will receive back the customers' confidence in purchasing.
Zara is pretty famous for its generous return policy which allows its consumers to return the product within 30 days at no cost. It is clearly said in the Help page of their website. Moreover, when you view a specific product, there is also a pop-over box that highlights this customer-oriented action.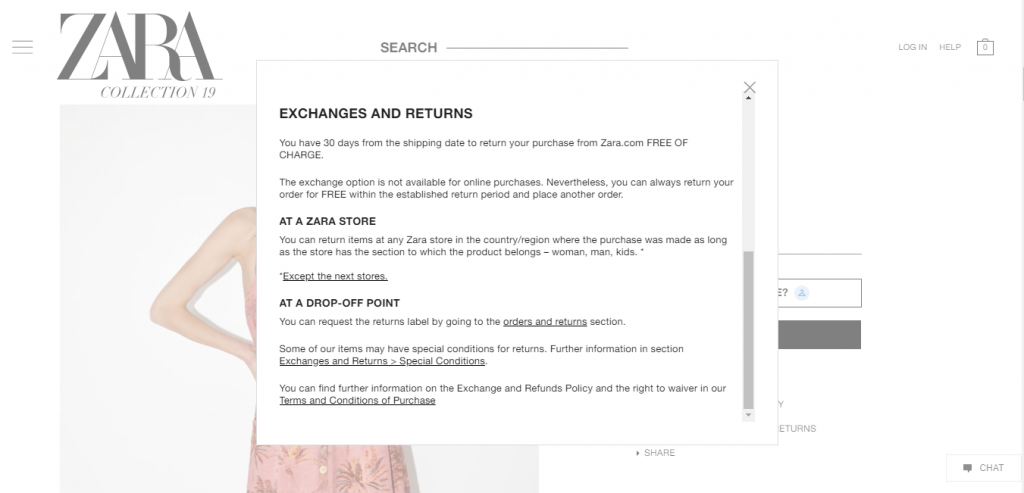 Provide great customer service
Usually, new business comes with a low budget, but there are some priorities that you need to allocate funds to. And one of them is customer service in which you provide assistant to your customers and handle their inquiries. When a consumer feels skeptical about your product, they may want to contact you via phone, email, chatbox or social media. It is critical to respond to their concerns as soon as possible.
Nowadays, real-time answers are really appreciated as customers may change their intention after just a few minutes. That's why live chat has become popular than ever. Chatting with a customer support agent not only build customers' confidence during their shopping time but also help to improve your conversion rate.
Give customers meticulous information about your product
There will be a great number of visitors who are linked directly to your product page when they first visit the site. Most of them just begin to learn about your products. Accordingly, the information provided should be as detailed and easy to understand as possible. When a potential customer lands on your site and browses through your products, the product information will either make your store look polished and legitimate or unfinished and scammy, it all depends on the product description.
Information can come in various sources like wordings, videos, short clips, guides, FAQ (Frequently Asked Questions), etc., In order not to crowd the page with a lot of details, some functional features that may help such as drop-down tabs, overlay or pop-over boxes, hidden content that reveals when you hover over.
Let's look at an example from a successful bag seller. They use a drop-down tab to provide accurate size, color, material, all unique features and other policies applying to the product.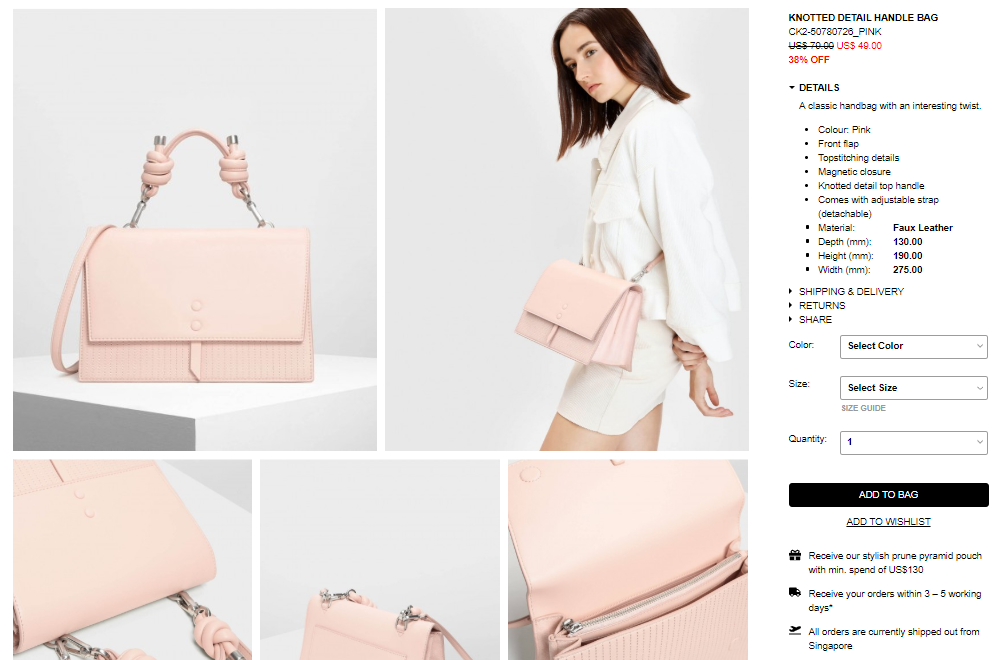 Be careful with small mistakes
Before launching your online business, make sure you have someone to check it out in order to avoid ridiculous mistakes that you as the owner may never recognize. Those mistakes might include wrong spelling, grammar, unease process, not responsive mobile version, time-out links, broken images, … which will give visitors a hint that your store is unprofessional.
Recently, online business competition is getting tougher because customers have unlimited choices of sellers.  It is really hard to penetrate the market as a brand new business. But it's the beginning story of everyone, even the biggest players. And one of the most important success factors is the mission that you have to make people trust you from the littlest things. Hopefully, these suggested strategies will ease your effort in achieving your first few sales and contribute to your success in building a strong brand with high customer trust. You can also get support along the way with Shopify apps, where you can find some shortcuts to maximize users' experience with your store.